Storie di Alumni.. From San Francisco, by Paolo Privitera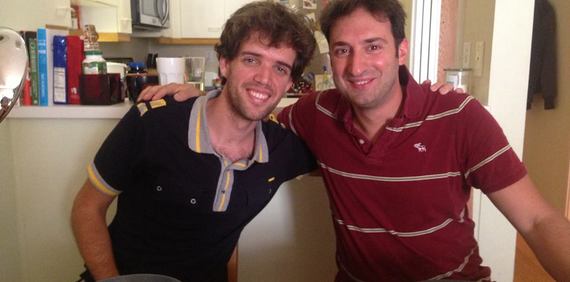 6 December 2000 -> fast forward 13 years to -> 7 September 2013
6 Dec 2000, Venezia, Italy - Massimiliano Picone contacts me to my university email when I was studying Computer Science at Ca' Foscari University of Venice telling me that he found interesting my paper/article about Vannevar Bush and Memex (proto-hypertext system precursor of the Internet of today) and that he wanted to repost it on his very famous blog/website about science in Italy.
LINK still active 13 years later ---> http://bit.ly/14QwsFc (sadly my university page is not active anymore).

We exchanged emails every now and then for 1-2 years and that's it.

13 years later.
6 Sep 2013, San Francisco, CA - I am hosting in my apartment in San Francisco Caterina Fallenidearest friend, she invites for a pasta Massimilano (that I "did not know" as the fact happened 13 years before and we were not connected in FB nor LinkedIn and we never ran into each other again). During lunch he kind of remembers my full name and he shout "Vannevar Bush ... was you that person who wrote that paper??". I started mumbling, definitely is not an everyday topic ... so I go to my Gmail (I imported all my emails from 1993) and I search that. And I found an email from him (see the pic) dated 6 Dec 2000.
Both speechless staring each other. And still kind of are.
Who would have ever imagined 13 years ago that we would have both ended up in San Francisco for way different reasons, and connected via Italian friends (Caterina in this case) that I "met" in Chile and Mexico and never even in Italy nor San Francisco?

So how is this called? Fil rouge? Serendipity? Small world?